Acupressure: The Missing Ingredient in Your Insomnia Toolbox?

There's nothing worse than lying awake at night, unable to fall asleep. 
Sleep seems to elude you whether you stare at the ceiling, reach for your phone or count sheep. 
But did you know that triggering specific pressure points on your body can help you relax and drift off to sleep? It's called acupressure — and it may be just the thing you need to lay your insomnia to rest for good.
Read on to find out more about acupressure and learn to activate the three pressure points that will help you sleep.
Acupressure is a method of healthcare that stems from the Chinese system of medicine. 
It's a holistic approach that takes into account your mental, physical and spiritual health, believing that each of these impacts the others. 
According to Chinese medicine, each person has vital energy circulating through their body. This energy is called Qi (pronounced "chi"). When imbalanced, these energy pathways (representing both physical and mental states of being) can become "tangled" at specific points.
It is believed that pressure on these specific points will help release the blocked energy and bring both physical and emotional/mental balance. And that's where acupressure comes in: each pressure point is associated with specific body parts/functions as well as emotional functions. 
If you think this sounds similar to acupuncture, you'd be right: acupressure and acupuncture operate on the same underlying principles. The main difference is that acupuncture uses tiny amounts of electricity to trigger the blocked pressure points, and acupressure uses the physical pressure of your hands.
Is Acupressure Effective?

There hasn't been a lot of scientific research done on acupressure to date, but it's gained a loyal following due to its effectiveness in alleviating a variety of ailments. 
However, there have been some promising results in studies with small sample sizes. For instance, one 2017 study involving over 100 participants showed a solid link between acupressure and decreased insomnia. 
The participants, all of whom struggled with insomnia, were randomly assigned to one of two groups. One group was medicated for their insomnia, and the other group received acupressure therapy. At the end of one month, the results were analyzed. The group receiving acupressure care showed almost a 93% effectiveness rate, with results lasting up to two weeks after treatment stopped. 
Given acupressure's potential sleep benefits, you may be wondering: what pressure points can I try at home to help me sleep?
3 Pressure Points That Relieve Insomnia
1. The Wind Pool Pressure Point (Fengchi)

This pressure point is located on both sides of your neck, right where your neck meets your head. Feel for the bone at the base of your head and follow it around to meet the neck. You should feel the muscles that attach your neck to your head.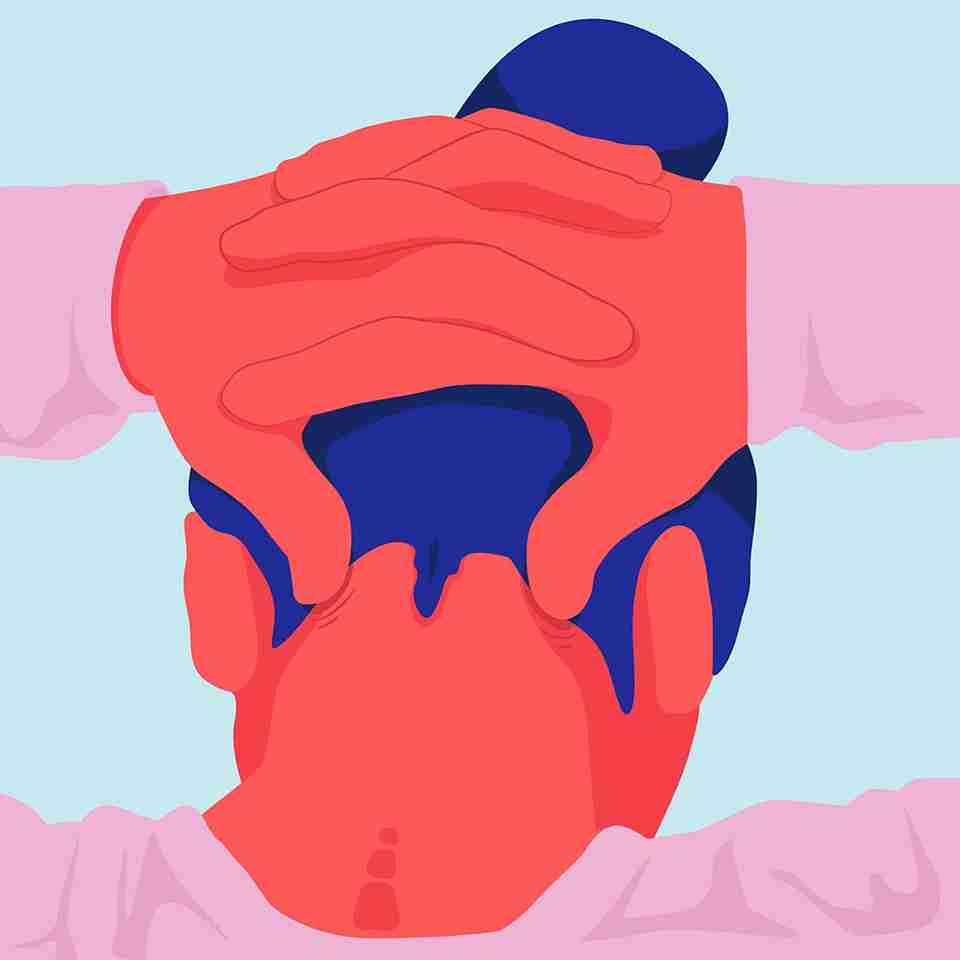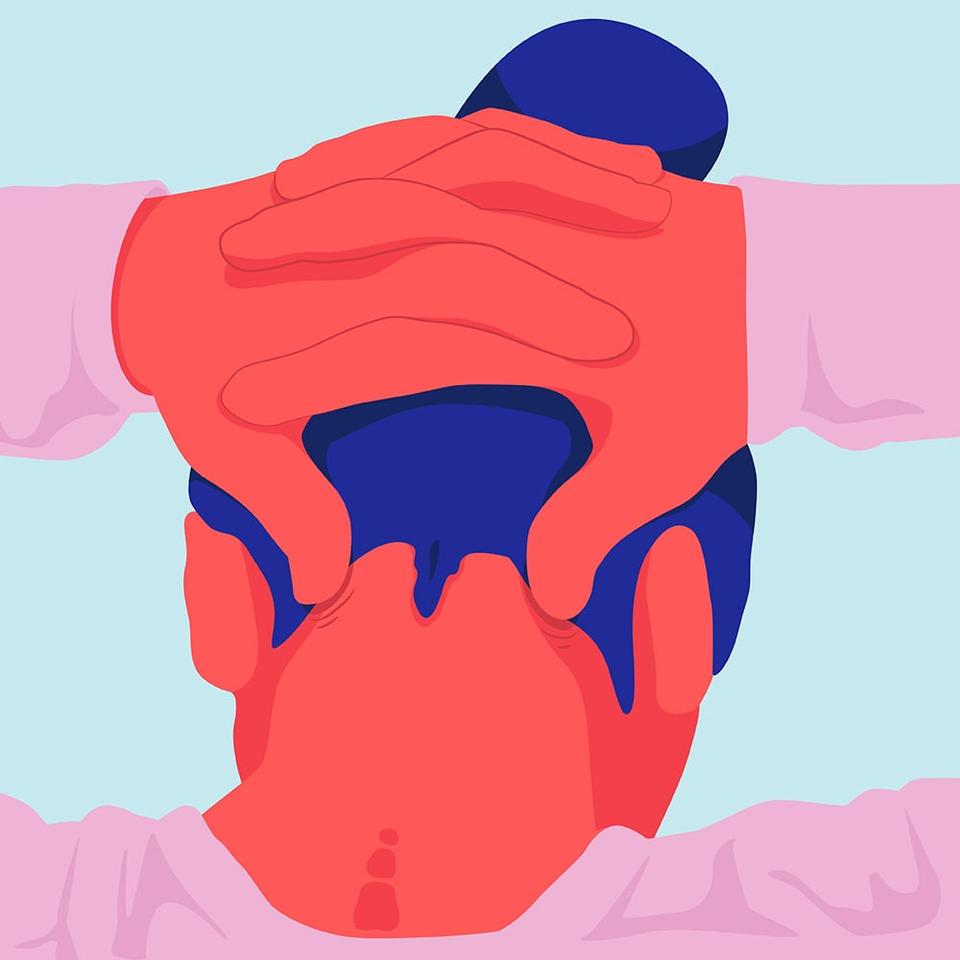 To activate this pressure point:
Lace your fingers together with your thumbs pointing up
Cradle your head in your laced hands (your thumbs should be resting, pointing down, on either side of your neck)
Apply firm pressure to massage the area in a circular motion for 5 seconds
Remember to breathe deeply
Switch directions and continue massaging for another 5 seconds
Repeat as needed
2. The Peaceful Sleep Pressure Point (Anmian)

This pressure point is located behind your ears, on either side of your neck. To find it, use your finger to trace from your earlobe to the soft muscle just behind the bony protrusion behind your ear. 
To activate this pressure point:
Place two fingers on the pressure points on either side of your neck and apply light pressure
Remember to breathe deeply
Repeat as necessary
3. The Mountain Top Pressure Point (Bai Hui)

This pressure point is located on the crown of your head. To find it, place your thumbs on the tops of your ears and let your middle fingers meet on top of your head. This spot, roughly in the direct center of your skull, is the pressure point. 
To activate this point:
Rest your middle fingers on this spot and apply gentle pressure
Breathe deeply
Repeat as needed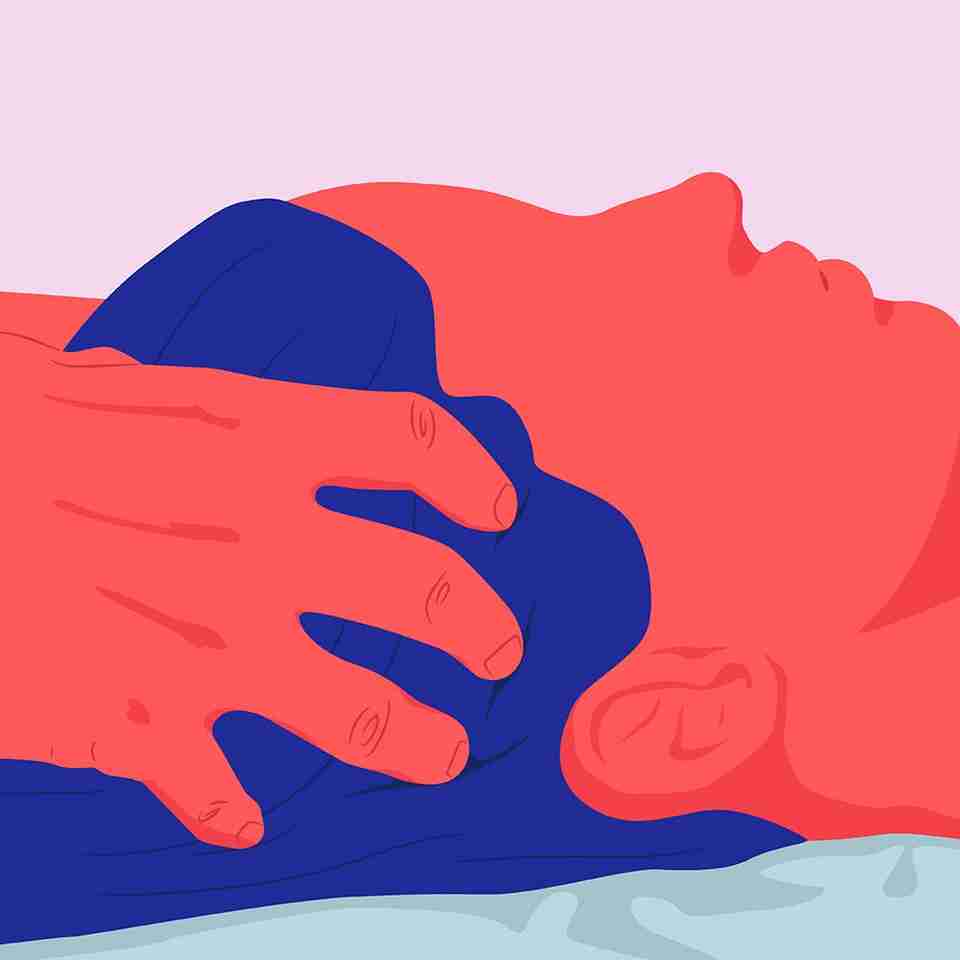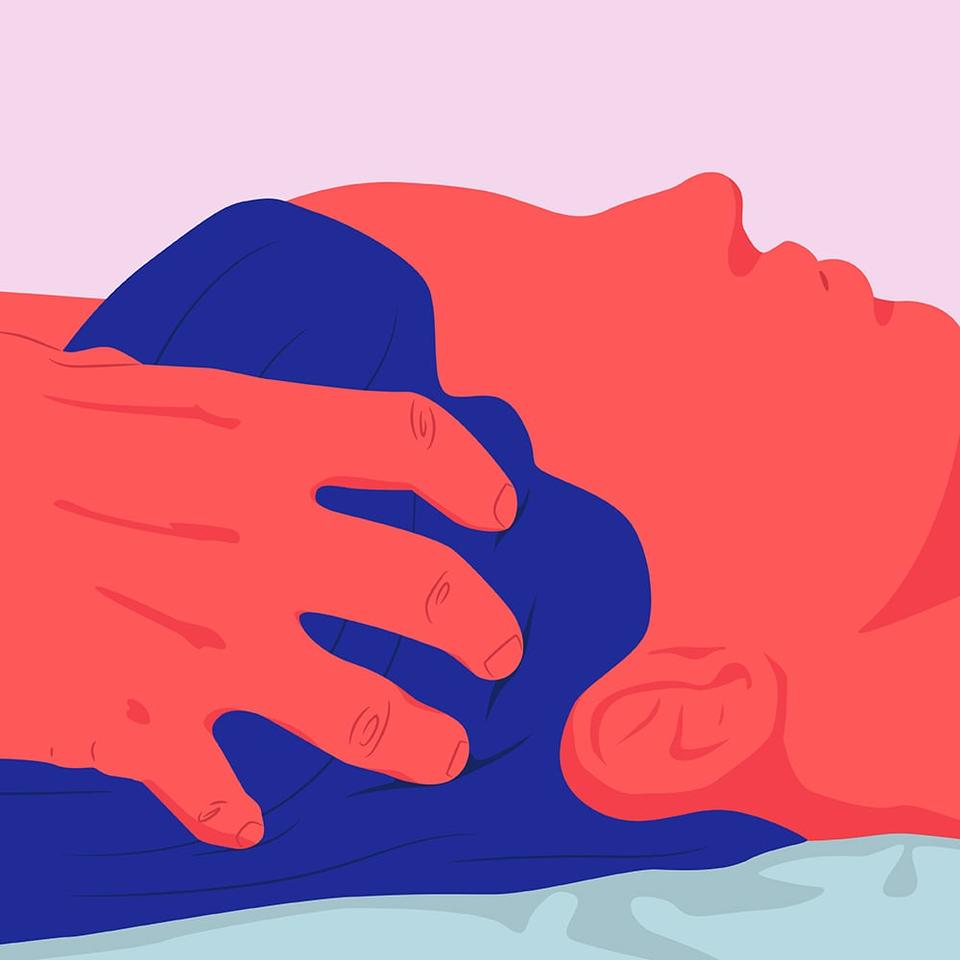 Acupressure Your Way to Deep Sleep

Many people have found acupressure to help with their insomnia — and now that you know the top three sleep-inducing pressure points, you can incorporate them into your bedtime routine too. 
Consider performing acupressure right before bedtime each night, remembering to breathe deeply — and if you wake up in the middle of the night and can't fall back asleep, try cycling through these pressure points instead of reaching for your phone.
Sources:
(1) "Pressure points to help you fall asleep." Medical News Today, www.medicalnewstoday.com/articles/327274. Accessed 26 Feb. 2020.
(2) Shao, Yue. "Clinical study on acupuncture for primary insomnia." Journal of Acupuncture and Tuina Science, 1 Dec. 2017, www.researchgate.net/publication/321943491_Clinical_study_on_acupuncture_for_primary_insomnia
(3) "5 Pressure Points for Sleep." Healthline, www.healthline.com/health/pressure-points-for-sleep#research. Accessed 26 Feb. 2020.
(4) Reninger, Elizabeth. "Bai Hui Acupressure Point." Learn Religions, 12 Feb. 2019, www.learnreligions.com/acupressure-treasures-bai-hui-hundred-convergences-3182275 
Do you know what acupressure is?
It might help you sleep. See how.
#sleep #sleepingtips #mantasleep
Disclaimer:  The information contained in this website or provided through our blog, e-mails, or programs is for informational purposes only. It is not intended to be a substitute for medical advice, diagnosis or treatment that can be provided by your healthcare professionals.