How to Get a Good Night's Sleep This Christmas Eve
Dreaming of a happy, healthy Christmas?

The answer could be in your dreams.

Unfortunately, 1 in 5 adults will get less than 5 hours sleep on Christmas Eve, resulting in a not-so-merry Christmas Day (1).

Read on for 8 easy ways the whole family can get a good night's sleep the night before Christmas. (Excited children included!)
Christmas lights and Christmas Eve go together like Mr. and Mrs. Clause. 
Well, here's another reason to love light. 
Exposure to natural sunlight helps to keep your own sleep-wake cycle in sync, known as the circadian rhythm (2).
The body's production of melatonin, a naturally responsive hormone to daylight, makes you alert when it's bright and sleepy when it's dark. 
The best way to utilize this the night before Christmas is to get your daily dose of Christmas Eve sunshine. Come dark, your body will effortlessly drift into snoozeville.
Pencil in some outdoor family adventure for December 24th. Think mountain climbs, cycling, hiking or even backyard sport.

The connection between exercise and quality sleep is unmistakable. Studies have proven the dreamy benefits of exercise, from improving serious cases of insomnia to better deep sleep zones (3). 

However, late night exercise could do the opposite leaving you too alert to doze off.

The solution? Use the daytime to pump up the adrenaline and leave the afternoon available to unwind.

Consider it a new Christmas Eve tradition.
3. Set a Present Opening Time
Did you know 1 in 3 adults jump out of bed between 4 am and 7 am on Christmas morning thanks to overly excited children (4)? Ouch.

One way to solve ecstatic children jumping on your bed before sunrise is to determine a reasonable present opening time.
 
If everyone in the household understands the agreement, there should be less early wake-up calls. Keyword: Should.
Make sure the kids know you're serious about the opening time and if they break the rules, there will be consequences.
4. Swap Screens for Music
Exposure to blue light right before bedtime can trigger chaos with your natural sleep cycle.

Set a device deadline for kids (and big kids) for at least one hour before bedtime and embrace the soothing sounds of music (5).

There's plenty of Christmas themed lullabies available on YouTube, iTunes or on DVD to send your senses into snoozeville. 

Soothing Christmas songs are especially effective for younger children. The likes of Silent Night, Away in a Manger and of course A Christmas Lullaby have the power to lull babies to sleep.

Christmas songs for kids are also a great way for little ones to use up any remaining energy before bedtime.
5. Make Wise Food Choices
What you eat (or don't eat) before bed can determine your sleep quality the night before Christmas.
Don't overeat so you go to bed feeling full, or worse, sick. Don't under eat either so you wake up from hunger. Find a happy medium and eat a normal sized dinner around two hours before bed.

As a general rule, add foods high in the sleep-regulating hormone melatonin to the menu the night before Christmas (6). These include; almonds, turkey, fatty fish, sweet potato, milk, bananas, cottage cheese, and more!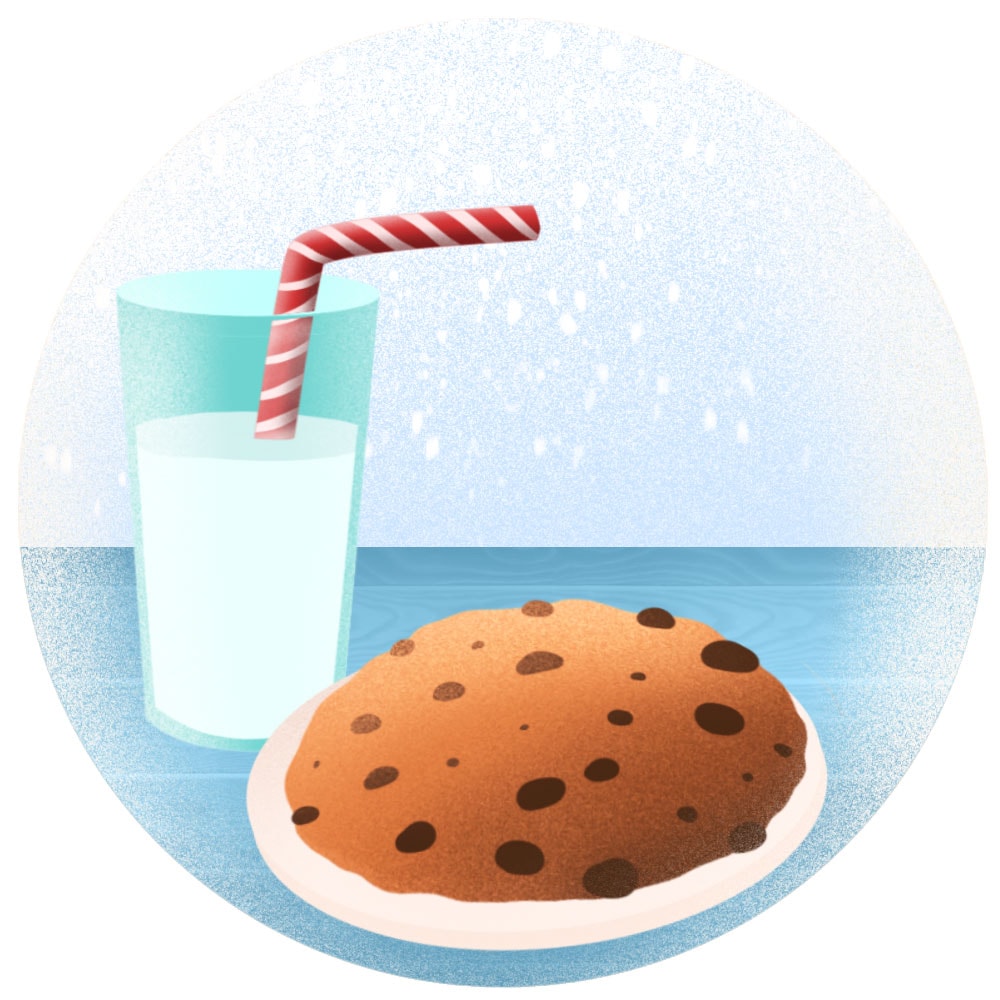 Christmas morning hangover sound inviting? Didn't think so.

Lay off the booze the night before Christmas to increase sleep quantity and quality. While you may argue a sneaky nightcap helps you relax, alcohol actually interferes with the sleep cycle once you're out (7).

Try hot milk before bed. It's a popular home remedy to overcome bedtime battles with kids, but it can also help adults reach their 40 winks earlier.
7. Give the Kids an Early Christmas Present…
… and make it sleep related.

If your kids are bursting at the seams to rip open a present, chances are sleeping is the last thing on their mind.
 
Opening just one present on Christmas Eve can help ease off the suspense and satisfy overly excited kids.
 
Even better, make it a new sleep accessory to get them excited for bed.
 
Think new pajamas, a cuddly teddy bear or a cozy eye mask.
 
Genius!
8. Tie up Final Preparations
Ever lay in bed thinking of the millions of jobs you need to do the following day?

Overly big to-do lists are killing precious zzzz's. Especially when it comes to the anticipation and excitement leading into Christmas.

Tick those final jobs off your to-do list the night before Christmas. Organize table settings, peel vegetables, set up decorations and wrap those last-minute presents.
Remember, quality sleep is vital for all ages. It benefits mood, fitness performance, controls appetite, increases concentration, and the list goes on (and on).

A quality night's sleep the night before Christmas will be the best present you can give yourself.

And don't stop there.

Now is the time to reflect on the year and start setting New Year sleep goals for a happier and healthier 2019.

But for now, Merry Christmas to all and to all a good night. 🎅🎄
Trouble getting your children and yourself to sleep on Christmas Eve?
Here are 8 tips to get sleep before Christmas. 🎄 👪 😴
#sleep #sleepingtips #napwithmanta
Disclaimer:
  The information contained in this website or provided through our blog, e-mails, or programs is for informational purposes only. It is not intended to be a substitute for medical advice, diagnosis or treatment that can be provided by your healthcare professionals.